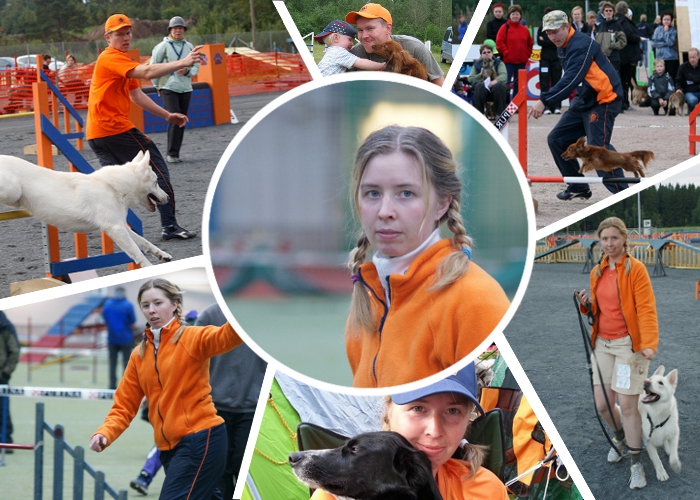 ABOUT US
The prefix Von Schneeland (from the land of snow) was admitted to my grandparents in 1969. I inherited it about ten years ago. I am very happy to be able to continue the work my grandparents begun and breed under this wonderful prefix.

I have always loved animals. Dogs, cats, rabbits, sheep, you name it! There probably is no animal species that I didn't want to bring home as a child. Had it been possible I probably would have had my own zoo.. or at least a horse, dogs, cats, bunnies, sheep and chickens.

Currently our family consists of me, my husband, our four beautiful children and our four dogs. We got our first dog when i was six years old. I have had dogs ever since. Right now we have a longhaired dachshund (kaninchen), a white shepherd and two border collies. I have had long-haired dachshunds (kaninchen) almost my whole life, for thirty years. I consider myself very lucky to also have owned the most wonderful dalmatian.

Agility is absolutely our favourite sport. I began doing agility with my dalmatian, Ruska (Dalhillīs Eccomi Qua) in 1999. After that I have been doing agility with my dachshund, the white shepherd and border collies. We also do some obedience for our own delight. We have tried herding, rally obedience and water rescue too.




I have bred two litters of kaninchen dachshunds. We had the latest litter in 2001. We left one puppy home of this litter, our amazing little Fanny (Labellafunfun). While competing with my husband Fanny became a Finnish Agility Champion. She was the first dachshund in Finland to have gained this title! Fanny was a legend. She was so very small, but still very much able to jump the contacts from so very high. My husbands and mine second dog was a white shepherd, Sisu (Neigepearl Finnish Sisu). Sisu had serious problems with jumping. We fought with the problem of hitting bars. Therefore Sisu's agility-career came short. It was time to consider a new dog, a new family-member and a new breed. After a very thorough consideration we decided that the next dog would be a border collie.

It took me two years to find the right puppy. But finally there was a suitable combination in Kennel Tronic. In 2011 a smooth bw bitch Tronic Junex aka Lotto came to our lives. Lotto has indeed lived up to her name, she really is a jackpot! It is always a pleasure to work with her. She has an endless drive and motor. Her body is gorgeous in proportions and so elastic. She moves so easily and smoothly. As an osteopath and masseur I can greatly value a good structure and a healthy, elastic body.

And as we got going we travelled to Netherlands in May 2013. It was time for one chocolatey border collie-boy to become our family-member. He is Armatiīs Jolly Jim aka Jim. Only time will tell what all we shall do with him!